Ayşenur Zarakolu Freedom of Expression and Thought Awards - 2019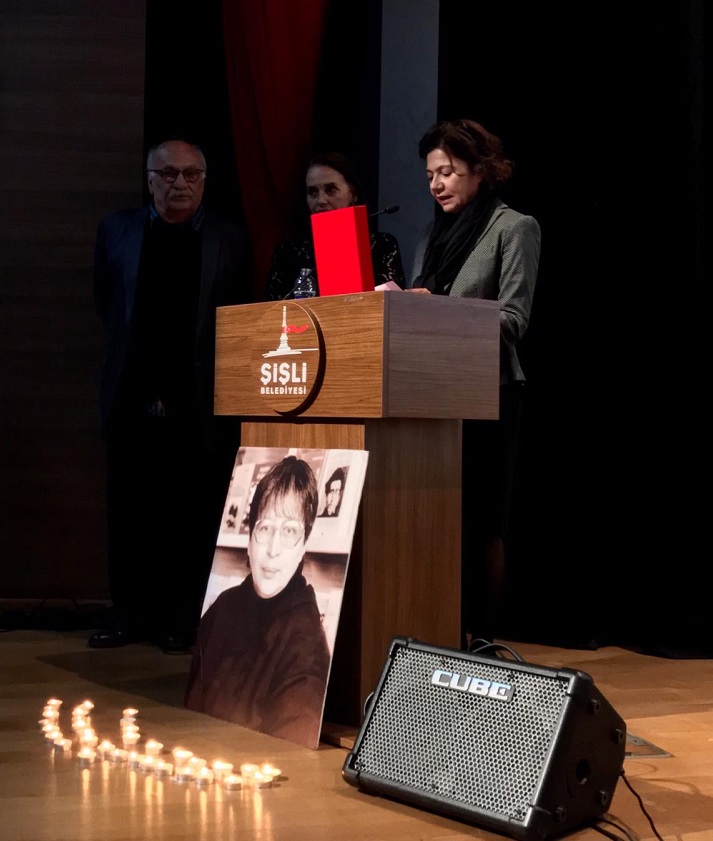 The 17th Ayşenur Zarakolu Freedom of Thought and Expression Awards by the Human Rights Association (İHD) İstanbul Branch have been granted to Prof. Şebnem Korur-Fincancı, Ayşe Düzkan, and Osman Kavala. At the award ceremony held in Nazım Hikmet Culture and Art Foundation, Prof. Ayşe Buğra took the award on behalf of Osman Kavala and delivered Osman Kavala's message.
Osman Kavala's message from Silivri Prison is below:
"I'm honored to receive the Ayşenur Zarakolu Freedom of Expression and Thought Award. The fact that I was chosen for this award gives me strength. Thank you. This award is even more meaningful to me, since I had the chance to get to know Ayşenur Zarakolu and witnessed her struggle.  
It is impossible for people my age to forget the coup d'etat of September 12th and the oppression, tyranny, executions, and torture that followed. Considering almost 40 years have passed, we would hope that this dark period had been sincerely dealt with and human rights and universal values of justice had rooted in this land by now. 
Unfortunately, the incidents that take place today; arbitrary arrests, sentences that no good conscience could accept, are not occasions one can witness in a state of law. These cases can only be compared to the judiciary practices of September 12th. Never-ending homicides at work, violence against women, attempts of lynching, violence that manifests itself not only in actions but also in discourse demonstrate that the values given to human life and dignity have eroded just like the judicial norms.
Despite everything, the number of citizens who request rights, a state of law and justice, and desire to live freely and in solidarity, are quite high. Their voices can't be suppressed. I believe their voices will unite to form a new language of peace and democracy, one that values human life. Since its foundation, Human Rights Association has been a prominent example in the fight for human rights and a source of light in utterly dark periods.  
I wish the best of luck to the members of HRA, who work with such devotion and commemorate with respect both Ayşenur Zarakolu and other human rights defenders, who have committed their lives to fight the injustices other people have been subjected to."