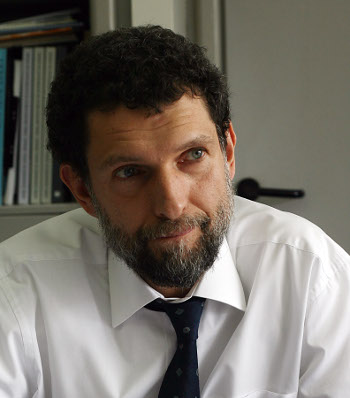 After graduating with a degree in Economics from Manchester University in 1982, Osman Kavala took over the management of Kavala Group companies. Dedicated as he was to running the family business, Osman Kavala was also deeply attuned to cultural forces affecting Turkey.  In response to the oppressive atmosphere in the aftermath of the military coup on September 12, 1980,  he had contributed to the foundation of İletişim Yayınları (İletişim Publishing House) in 1983 with the goal of inspiring positive social change.  The mission of İletişim Yayınları was to carry out effective, extensive and popular publishing activities that served the  democratization and civilization process in the country. In the following years, objectives such as acknowledgement of cultural diversity, dialogue on arts and culture and cultural collaboration became the cornerstones of initiatives he took part in and supported.
After partaking in relief activities in the aftermath of the 1999 earthquake, he quit his position in the business world and dedicated himself to work in the field of civil society for the betterment of all. He became one of the important actors in Turkey's developing civil society activities during the 1990s, working in a variety of civil society organizations and projects. In 2002, he decided to focus his work  on arts and culture and founded Anadolu Kültür together with a team of like-minded individuals from the arts, business world, and civil society. The group's objectives included enabling the production, viewing and sharing of arts and culture in Turkey, supporting local initiatives, emphasizing cultural diversity and rights and strengthening local and international collaborations. Anadolu Kültür aimed for creating a culture of peace in the society by their projects.
In the belief that a civil arts and culture initiative would serve dialogue and peace after the severe conflicts of the 1990s, Anadolu Kültür founded the Diyarbakır Arts Center (Diyarbakır Sanat Merkezi - DSM) as its first local initiative. Over time DSM became a place where artists from Istanbul and European cities visited and met local artists to design collaborative projects; a center that was open to everyone.  It also became an important platform through which individuals willing to make art in Diyarbakir could get professional support and make connections. Kars Arts Center (Kars Sanat Merkezi), another initiative that was founded in 2005, became the sole multi-purpose hall in the city. It served as a center for cultural communication and activities for individuals not only from Turkey, but also from Armenia, Georgia and Azerbaijan until it closed its doors in 2009.
Other projects in Anatolian cities began mainly in Antakya and Çanakkale and spread through the inclusion of cities such as Eskişehir, Gaziantep, Van, Batman and other cities. Since 2004, projects that were conducted in a variety of cities in collaboration with local administrations and arts and culture actors were intended to support arts and culture programs of municipalities and augment the role of civil initiatives in determining urban politics. In the same period, Anadolu Kültür organized arts and culture workshops for prisoners, and work produced in these workshops were exhibited and shared in the form of a publication.  
In 2010, during preparations for the negotiation process for Turkey's accession to the European Union, Anadolu Kültür diversified its work to include projects to create connections between European and Anatolian cities. The objectives of these projects were to support the cultural environments in cities other than İstanbul, and to create cultural bridges between these cities and Europe in order to contribute to the European Union process of Turkey. The TANDEM program, carried out since 2011, supported long term collaborations between cultural administrators from Turkey and European countries. Participants from more than twenty cities in Turkey met with their European partners and developed projects together. BAK project, which started in 2012, brought together youth from different regions in Turkey and they worked together on collaborative artistic projects along with advisors. Anadolu Kültür, through its own centers and projects such as TANDEM, BAK and New Film Fund provides opportunities to many  arts and culture producers from Turkey to enable their projects. Another center that was founded under Anadolu Kültür in 2008 is DEPO in Tophane neighborhood. DEPO with its accessible and flexible structure aims to meet the need for an independent art space that is not commercial and open to critical voices in the Istanbul arts and culture scene.
Anadolu Kültür also carries out projects that are geared towards children facing difficult life conditions. The photography workshop for children that was held after the 2011 Van earthquake, educational projects for Ezidi refugee children and books that are prepared for Syrian refugee children in two languages are some of the prominent projects in this realm.
In order to develop regional collaboration between civil society actors and promote a culture of understanding and peace, Anadolu Kültür worked on and supported a variety of projects such as Armenia-Turkey Youth Symphony Orchestra, Speaking To One Another project that brings together youth from Armenia and Turkey for oral history studies, Armenia-Turkey Cinema Platform and concerts such as "Gomidas is 140 Years Old" and "In Memoriam".
Another area in which Osman Kavala works is cultural heritage. In the realm of the cultural heritage, he contributed to the foundation of Association for the Protection of Cultural Heritage (Kültürel Mirası Koruma Derneği - KMKD). This foundation conducts field research and publishes reports on the preservation of mobile and immobile entities under threat, and on their restoration according to the original standards.
Osman Kavala's main focus of work, Anadolu Kültür, celebrated its 15th anniversary in 2017. In addition to his work with Anadolu Kültür, Osman Kavala is also a founding member, board member and on the advisory board of many civil society organizations such as Open Society Foundation (Açık Toplum Vakfı), Turkish Economic and Social Studies Foundation (Türkiye Ekonomik ve Sosyal Etüdler Vakfı – TESEV), TEMA Foundation, History Foundation (Tarih Vakfı), Diyarbakır Political and Social Research Institute (Diyarbakır Siyasal ve Sosyal Araştırmalar Enstitüsü – DİSA), Turkish Cinema and Audiovisual Culture Foundation (Türkiye Sinema ve Audiovisuel Kültür Vakfı – TÜRSAK). As his curriculum vitae clearly evidences, Osman Kavala has dedicated his life toward building a civil and just society.
Osman Kavala is an individual who is sensitive to our country's challenges and has tirelessly worked to bring people with different perspectives together in dialogue to address local and international conflicts. This dialogue both lays a foundation and charts a course for positive real world change based on peace and human rights. His work is culturally constructive, focused on building a better future for all citizens. 
For detailed information about Osman Kavala's civil society activities, see Civil Society Activities page.