Friends of Osman Kavala Ask:
WHY OSMAN KAVALA HAS BEEN IN PRISON FOR ONE YEAR?
Artists, academics, activists and politicians gathered in Silivri for solidarity with Osman Kavala.

Numerous people from the academia, arts and culture, publishing, and politics gathered in front of the Silivri Prison in İstanbul on November 3 in solidarity with Anadolu Kültür Executive Board Chair, rights advocate and businessperson Osman Kavala, who has been imprisoned for more than a year.
Speaking on behalf of the group, who was carrying a banner that read, "Why has Osman Kavala been captive for one year", artist İz Öztat read out the following statement:
On the occasion that it has been a year since Anadolu Kültür Executive Chair and businessperson Osman Kavala was arrested, we met in front of the Silivri Prison to ask 'Why?'. Why has Osman Kavala been held for one year in prison without knowing the reasons of his arrest, by being deprived of all means of defense, in an unlawful manner?
Lawyers have objected to his arrest 10 times, and all of these objections have been rejected. We cannot learn the charges pressed against him as there has been an order of confidentiality. They claim that there is strong evidence, but the content of the evidence is not clear. Moreover, even the prosecutor assigned to his case has not taken his deposition.
Depriving him of his freedom in this way is no different than torture!
Osman Kavala has to be immediately released, the charges pressed against him have to be announced and, if needs be, he has to appear before the court as per the Constitution and the principles of the European Court of Human Rights (ECtHR), an institution of the Council of Europe.
Osman Kavala, who has been arrested on charges, which would sound fantastic to the ones who personally know him, says in his first-year letter, 'Years have been elapsing from my life. I want to reunite with my freedom, my family and friends.' We, as his family, friends and colleagues, wish that this situation, which is shameful with regard to law, comes to an end.
Free Osman Kavala!
Among the participants of the statement for the press were Ali Uçansu, Aybike Haydaroğlu, Ayşe Gül Altınay, Ayşegül Devecioğlu, Banu Cennetoğlu, Burak Delier, Bülent Aydın, Celalettin Can, Cem Erciyes, Refik Akyüz, Emine Uşaklıgil, Erdal Karayazgan, Esra Mungan, Fatih Özgüven, Fatma Gök, Gençay Gürsoy, Gaye Boralıoğlu, Gül Kozacıoğlu, Gül Pulhan, Güliz Sağlam, Gürol Irzık, Hakan Altınay, Hüseyin Karabey, İlhan Sayın, Jaklin Çelik, Melek Ulagay, Murat Akagündüz, Nadir Öperli, Nadire Mater, Necdet İpekyüz, Nilgün Mirze, Osman Bozkurt, Özcan Yurdalan, Selin Söl, Semih Sökmen, Seren Yüce, Sevilay Demirci, Sezgin Tanrıkulu, Sibel Irzık, Şemsa Özar, Tatyos Bebek, Timuçin Gürer, Yetvart Tovmasyan, Yamaç Okur, Yiğit Ekmekçi and Zeycan Alkış.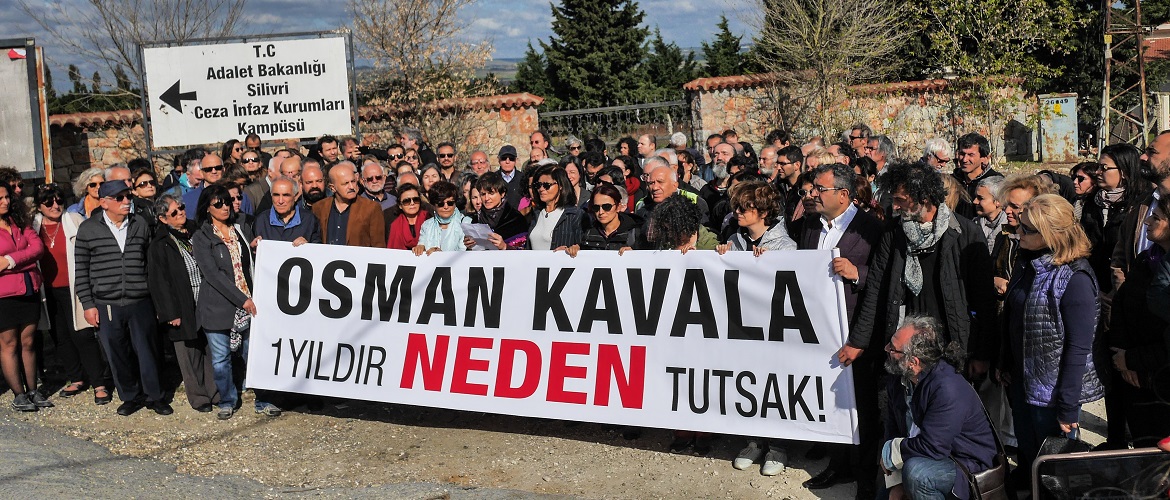 İz Öztat reading the joint statement, Photography: Özcan Yurdalan

His friends waving at Osman Kavala to send their regards, Photography: Özcan Yurdalan