Members of parliament, civil rights defenders, journalists and artists gathered  in front of the Silivri Prison on December 20th, Wednesday and declared "You cannot make a criminal out of Osman Kavala". The full text of the statement signed by the following names is as follows:
You can't make a "criminal" out of Osman!
The fact that Osman Kavala has been arrested, detained and that he is being kept in prison without the preparation of an indictment is a summary of and a mirror to the current state of the regime, governance and jurisdiction in this country.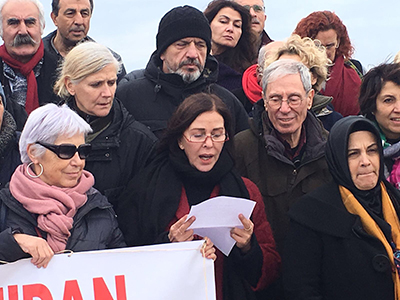 People who know Kavala locally and internationally, people who are aware of his efforts, activities and contributions and not only his relatives and friends, but also thousands of people who received his support are all witnesses to the fact that he is the last person to be accused of terror, violence, coup or conspiracies.
Osman Kavala's crime is that he has devoted his entire resources to make cultures, beliefs and societies come closer, to make civil society stronger, to attain to contemporary global values and peace. This is the reason why he is targeted and arrested.
You cannot make a criminal out of Osman through corrupt denunciations, fake evidences or conspiracies founded in dark centers. Every single day he spends in prison is a day of shame for our country, a crime for the government and violation of law for the jurisdiction.
We request him to be released immediately and demand an apology to be made to him and the society for the unjust treatment he has been subjected to.
20 December 2017, Silivri
Ömer Madra, Gencay Gürsoy, Osman Baydemir, Nurcan Baysal, Nesrin Nas, Füsun Ertuğ, Derya Tolgay, Ayşe Erzan, Nadire Mater, Yasemin Bektaş, Binnaz Toprak, Zeynep Tanbay, Abdullah Demirbaş, Servet Demir, Hülya Karapınar, Cihangir İslam, Mustafa Paçal, Nesim Ovadya İzrail, Gürhan Ertür, Hacer Ansal, Viki Çiprut, Oya Baydar, Ayşenur Arslan,Tuğrul Eryılmaz, Lale Mansur, Şanar Yurdatapan, Hüsnü Okçuoğlu, Hasip Kaplan, Kadir Akın, Turhan Önalan, Serdal Kuyucuoğlu, Hasan Cemal, Gülseren Onanç, Nurten Ertuğrul, Nesteren Davutoğlu, Nazar Büyüm, Ferhat Tunç.