Osman Kavala's classmates from Robert College met in front of the Silivri Prison on November 25th, Saturday and declared "Osman Kavala is not alone." The full text of the statement that was recited by actress Nihal Geyran Koldaş on behalf of Osman Kavala's classmates in front of the Silivri Prison is as follows:
Osman Kavala is Not Alone
Today we have gathered here as Osman Kavala's high school classmates, in front of this prison where he is kept behind iron bars, deprived of his liberty, in order to voice an objection of ours. We are exercising our democratic right and objecting to his imprisonment.
We object because we believe that great injustice is being done to Osman Kavala. As friends of his who know him quite well, we deny all allegations that Osman has taken part in a coup attempt or become involved with a criminal organization appearing as a religious community. Charging Osman with being a putschist is as surreal, irrational and contrary to fact as arguing that the world is flat rather than round. As a true democrat, his entire life has instead been about struggling against the pro-coup mentality.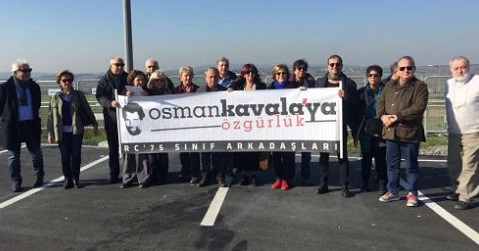 We have gathered here also because we wish to demonstrate our affection, support and solidarity for him, and announce to all that Osman is not alone. We are here to show that wire fences, iron bars, bolts locking cells and high concrete walls surrounding this prison facility do not have the might to keep us away from him.
Our assembly in this place and time is also a means to share with you a source of great pride for us. This is not only the pride we take in knowing him, being his classmate and friend; but also in witnessing the wave of support and massive display of respect and admiration for his personality, stance and work from all over Turkey as well as all across the world in the wake of his arrest.
Osman's arrest and imprisonment has led to the voicing of an objection on a rarely-witnessed scale on the international level. A strong and robust surge of reaction has risen from all around, spreading from the United Nations to the Council of Europe and the European Parliament, from parliaments to internationally prominent civil society and human rights organizations, and to globally reputable press institutions and universities. It is spreading farther and wider every single day.
What is it that has triggered this great surge? The piece written on Osman immediately after his arrest by Anthony Barnett, founder of the "openDemocracy" platform, provides the most striking response to this question. Here is what Barnett says:
"There are those who try to be good. There are those who are good. And there is Osman Kavala, who is in a league of his own… That such a person should be alive gives everyone who knows him some hope, and this ripples out to those who are lifted by his unstinting efforts to overcome the pain of injustice and support dialogue and understanding."
The wave of reactions against Osman's imprisonment today is, in fact, one with the great surge of hope created by him, rippling out against injustice…
In the same article, the author expresses that Osman "is the incarnation of all that is good, generous, careful and humane". His life story is one of selfless altruism, of devotion to the wellbeing of others and of the society at large. His entire life has been spent in the errand of touching and bettering others' lives, going to and fro for this purpose. As his friend Soli Özel underlines in the piece he wrote about him, "Osman has put his time, labour and good intentions to use to ensure life in peace and dignity for all."
He has rushed to everyone's aid. Those he set out to assist were minorities, communities whose identities were not acknowledged or even denied, the socially excluded and marginalized, people subjected to injustices, those lacking the means and opportunities to make their suffering heard, those whose pain had to be shared… Osman Kavala was always a major assurance for those in this kind of situation, as well as a gateway to hope.  
His most important endeavour was the search for how to build a permanent peace in a democratic environment in these lands upon which we live, so that Turkey would finally be able to step confidently into the future. He steadfastly and relentlessly worked towards a peaceful solution for the Kurdish issue, opening up channels of dialogue for this purpose.
He had faith in the power of civil society for the advancement of democracy and human rights in Turkey, and hence supported civil society initiatives, spending all of his resources to this end. He had equal faith in the power of culture, believing that culture and the arts could open all kinds of doors and therefore making all possible efforts to mobilize cultural contacts in order to overcome deep-seated problems we face. There is no doubt that when one day the history of the tradition of civil society in Turkey is written, Osman Kavala's name will be on the honour roll as one of the most important figures in this field.
In light of its consequences, Osman's imprisonment cannot be considered limited to the act of locking a single human being inside a cell. Unfortunately, in the person of Osman Kavala, what is in fact being put behind bars is the entirety of the values and ideals he represents and symbolizes.
Having come here today, we salute not only Osman, but all those kept in this prison unjustly and unfairly charged with thought crimes. We demand justice and freedom for them as well.
When we graduated from our high school in 1975 and stepped out into the world waiting for us outside, we gazed into the future with hope. The thought that a great and brutal injustice to be suffered by a friend, who had gained the love and affection of us all, would reunite us in front of a prison complex 42 years later would never have even so much as crossed our minds in those days. Yet the same hope with which we contemplated life the day we graduated is still alive within us. We refuse to surrender to despair. Our presence here today is the very expression of this refusal, and of the fact that we shall never give in. We do not lose hope because we know and feel that Osman never does behind those iron bars either, and that he keeps giving us courage from his cell.
We believe that this message of ours here today shall transcend iron bars and doors as well as concrete walls, and reach all the way to his solitary cell.
Osman is not alone in his one-person cell. We know this by heart: the abundance of affection, sympathy and good sentiments harboured by people whose lives he has touched fills and illuminates his cell as a great beam of light.
We aren't bidding Silivri farewell yet. We will be back. We will be here again to meet him the day he regains his freedom; and we hope that day is not too far away.
Robert College, Class of 1975
25 November 2017